Op-Yop Makers Participated In the 2010 Maker Faire



A Little Bit of the Back Story…

During the Detroit Windsor Fireworks on local Channel 4, Devin Scillian and Carmen Harlan announced an upcoming event at the Henry Ford called The Maker's Faire. It sounded interesting and right on target for helping re-launch the Op-Yop. We hurried to the laptop and looked for the Henry Ford Website to find out more. Even though the entry date had passed, we sent an email to the link on the Henry Ford site and asked permission to exhibit. We were encouraged to apply. Dale Dougherty, GM, Maker Media, Make Magazine & Maker Faire, O'Reilly Media, gave approval, and our journey began. The next contact was from Sean Ragan inviting us to advertise with them in the Makers Market, which we hope to do soon. Sherry Huff, the Event Director followed up with an extremely informative outline of what the Maker's Faire was all about and how to best participate.
The Op-yop rebirth is in its infancy so flexibility is key wherever possible. Sherry's email encouraged us to make our exhibit interactive. So, we put on our thinking caps and what emerged was an easy way to involve our customers in making the product. We drew a
basic storyboard
of what steps there were in making an op-yop and focused in on the assembly that could be done by a customer. We wrote detailed instructions on how to assemble the op-yop. We printed them out on press apply adhesive backed paper and mounted them on two foam core boards. We glued actual op-yop pieces onto the storyboard to show the steps. We bought 8 totes from the dollar store and filled them with bulk supplies, then cut the string and packed everything up ready to let customers
"Make Your Own Op-yop".
We set up Friday night, displaying both the make-it-yourself and ready-made-versions. Within an hour of the faire's opening, Saturday AM there was no doubt that making the item your self was a hit. People wanted to make their own as well as make their own kits to give away as gifts. At previous markets, Mom or Dad might buy one to share between the children, but here each child made their own.
We discovered many things we had not considered before. By making the string shorter, we made the toy usable by smaller children as the shortened string accommodated their shorter open arm reach. We found that little fingers properly positioned the labels more easily than adult fingers. We found a gender line for disc color and label choices. We had several teachers buy them. One teacher said she thought is was the perfect tool to have in her hands when wanting the class to look at her while she was speaking. One physical therapist saw the benefit of the resistance exerted on the upper arm muscles. A couple of area librarians ask for demonstrations at their facility's. Many people commented on the mesmerizing, addictive nature of playing with the toy. A California company executive bought several to distribute to staff as stress relievers . A union representative arranged to buy raw stock for assembly by children at their Christmas Party for Kids. Several schools setup orders for the Op-yop to be in their schools Christmas store or craft show.
We met hundreds of people, made dozens of valuable contacts, and came away with some very enjoyable
fast friendships
.
Here are some of the photos taken during the event...and a very special ending follows the photos.
Boys chose blue discs and a blue red label Threading the string through the Op-yop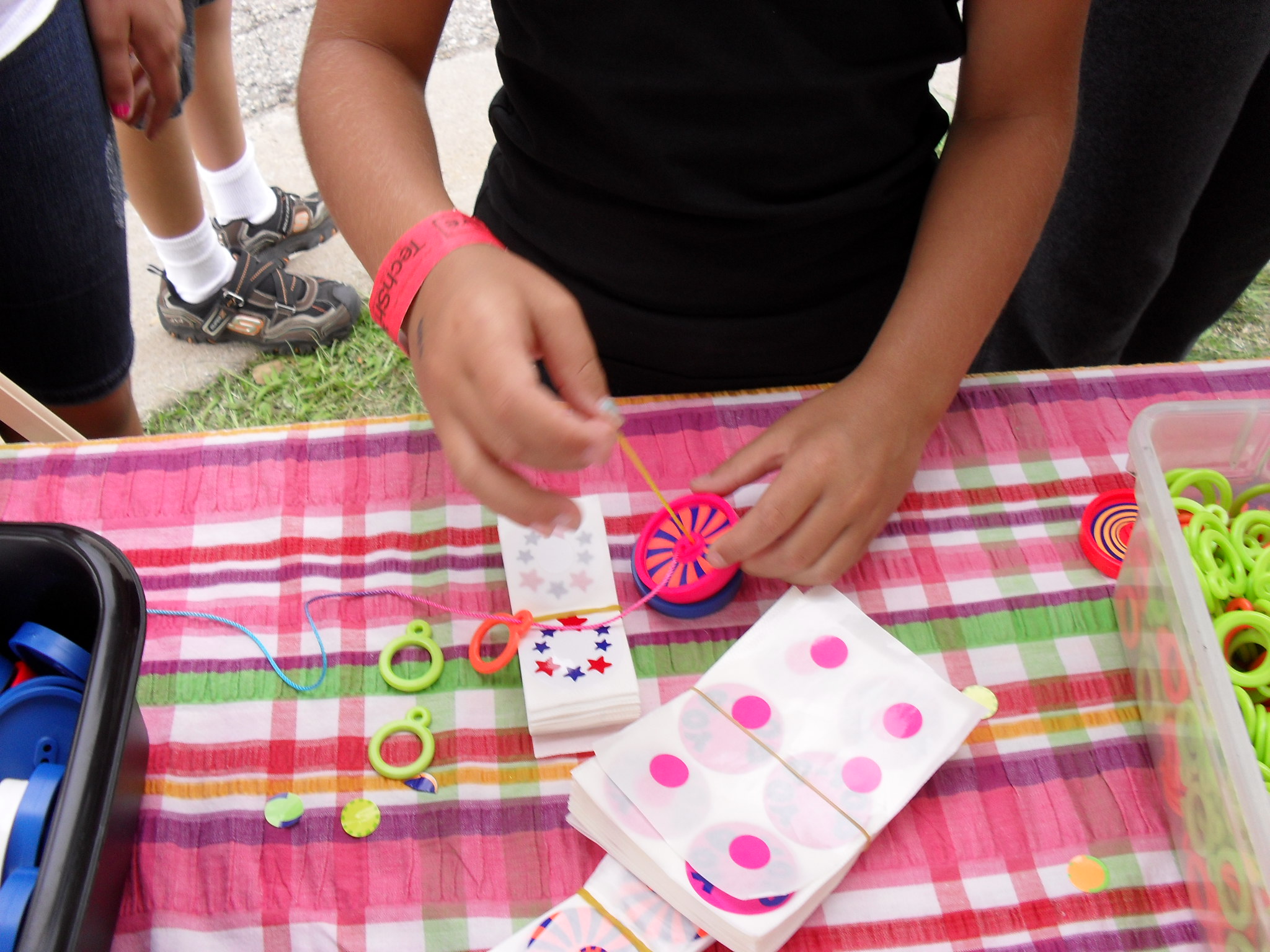 Just tie a knot and you are ready to Op-yop Mom helps select a color string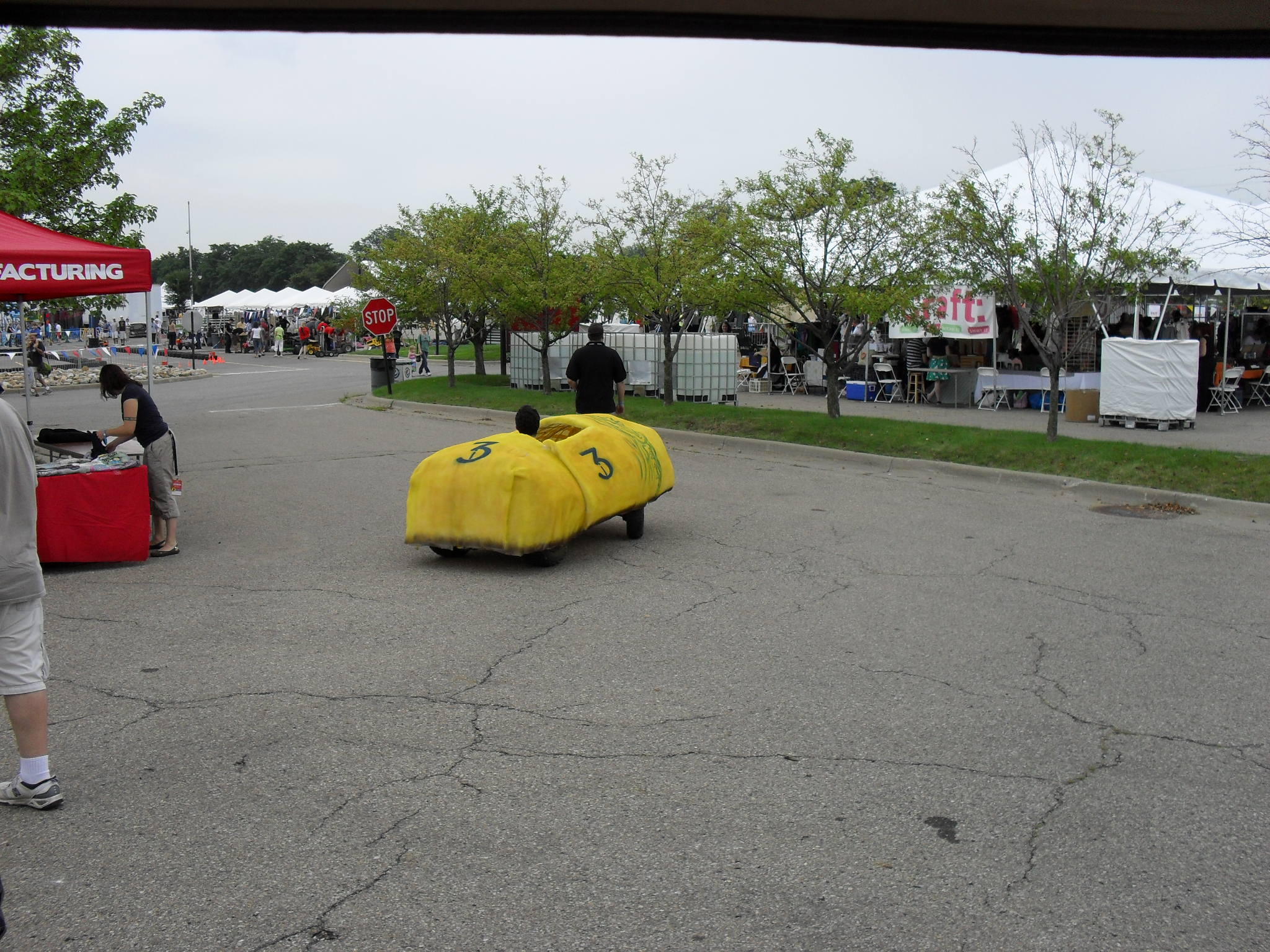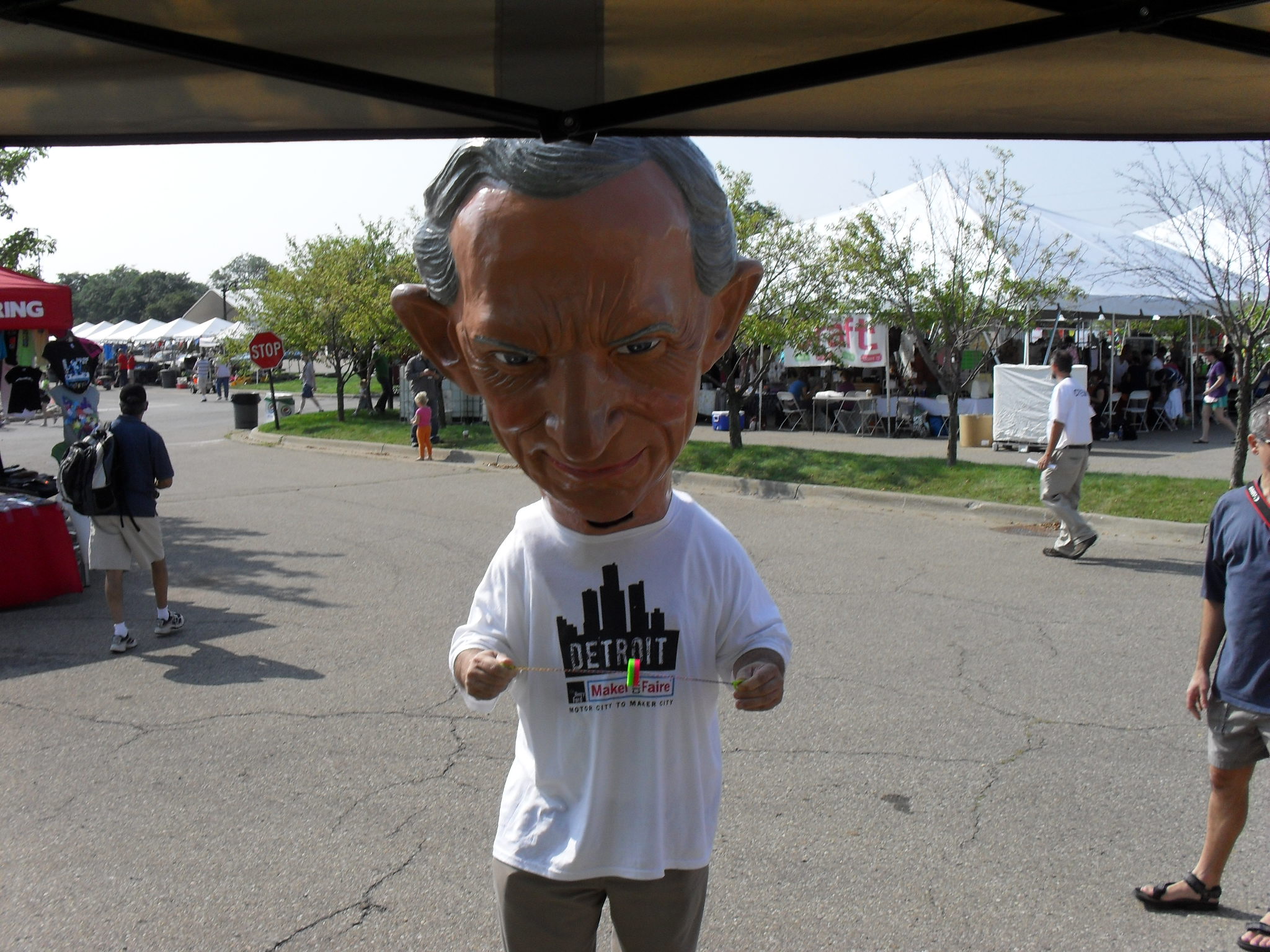 The Twinkie Cannon-Mobile Henry Ford likes the Op-yop
Darcy won an Editor's Choice Blue Ribbon Award
She was bagging groceries at Kroger when Mom and Dad found out about it, so they arranged with her store manager to take the rest of the day off and come to the Faire to receive the award. The whole thing was a secret until Brook came over and told Darcy. Darcy was astounded.
Afterwards Darcy told her brother "This was the best day of my life".